Bollywood star Aamir Khan on Wednesday said Prime Minister Narendra Modi's 'Mann Ki Baat' monthly address was the biggest example of transformational change and people's movement.
Speaking at a session themed 'Awahan Se Jan Andolan' (from call to people's movement) during a day-long national conclave on 'Mann Ki Baat@100', Mr. Khan said that as the leader of such a large country, it was imperative for the Prime Minister to talk to the people, let everyone know what was on his mind, and guide the masses. He said the reason for the success of 'Mann Ki Baat' was that Mr. Modi made an effort to connect with the masses.
The initiative was important as it took people into confidence, gave them the vision and direction, and became the start of a people's movement, he said. Mr. Khan said it was only because the Prime Minister wanted to connect with the masses, that he had invested in it, there was an emotion behind it which came through, and that was why people believed and trusted Mr. Modi. This trust had been built over time and earned by the Prime Minister, he said.
"Communication is a fundamental requirement for any leader and the ability to speak with the masses, about women issues, economics and other issues that affect the people is a very important quality and the Prime Minister has this exceptional quality to express these things to a common man and connect with them, and these are extremely important qualities of a great leader. The Prime Minister does not need to campaign as he has such a massive reach that he simply has to directly communicate, and takes everyone along," Mr. Khan said.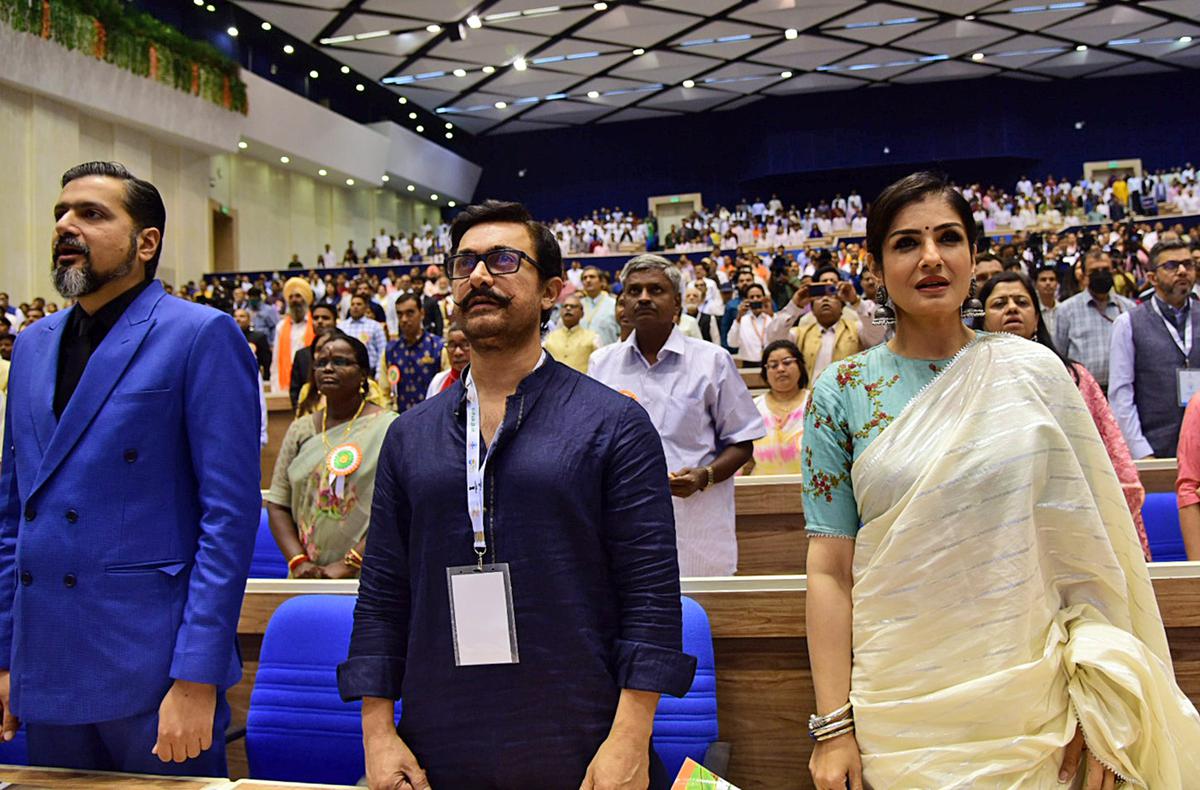 During the discussion, radio jockey Sharad said the programme was a positive magnet that had attracted millions of people, touched their hearts and started many campaigns. Shashank R. Joshi, endocrinologist and diabetologist, said the Prime Minister felt the pain of the people. During the COVID-19 outbreak, Mr. Modi had expressed full confidence in Indian doctors and scientists, who delivered to their best capabilities. India made its own vaccine and vaccinated all its citizens, Dr. Joshi said.
Prof. Najma Akhtar, Vice-Chancellor of Jamia Millia Islamia University, said 'Mann Ki Baat' had become a mass movement due to Mr. Modi's vision. Talking about the research being undertaken at the university, she said people had been motivated through the radio programme in their own unique ways, and this exceptional way of communication was being celebrated as a festival.
School principal Deepmala Pandey, from the 'One Teacher, One Call' initiative, said they created a network of teachers using digital platforms on social media to connect teachers, parents and students. She said when the Prime Minister had mentioned the initiative on 'Mann Ki Baat', the movement received massive support not just from India but various other countries.
Telangana Governor Tamilisai Soundararajan, joining through virtual conference, said the Prime Minister had never said that 'Mann Ki Baat' was an expression of his mind, but that it was the expression of the expectations of the people.